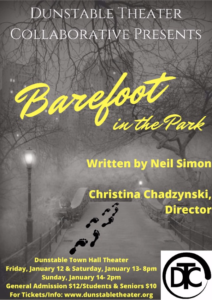 Join Dunstable Theater Collaborative for our group's inaugural performance of Neil Simon's Barefoot in the Park at Dunstable Town Hall, 511 Main Street, Dunstable, MA!
Friday and Saturday, January 12 & 13 – 8PM
Sunday, January 14 – 2PM
Neil Simon's Barefoot in the Park is a romantic comedy focusing on a pair of newlyweds, Corie and Paul Bratter, as they begin married life in a tiny, 5th-floor walkup apartment in a Greenwich Village brownstone. Paul is a strait-laced attorney; Corie has a far more spontaneous, free spirit. As the young couple contend with a lack of heat, a skylight that leaks snow, several long flights of stairs, oddball neighbor Victor Velasco, and Corie's well-meaning mother Ethel Banks, they must also reconcile their own personal differences in how they approach life's challenges. Adjusting to married life isn't so easy!
Starring:
Valerie Kosick as Corie Bratter
Nathan Hadlock as Paul Bratter
Karen Majkut as Mother (Ethel Bratter)
Jon Swift as Victor Velasco
Kevin Dumont as Telephone Repair Man (Harry Pepper)
Vicki Graw as Delivery Man
---
AUDITIONS! We are holding auditions for Neil Simon's Barefoot in the Park:
Tuesday, September 12th – 6 – 9 pm
Thursday, September 14th – 6 – 9 pm
Callbacks (if needed):
Friday, September 15th – 6 – 9 pm
Auditions will be at Dunstable Town Hall in the Main Hall, upstairs. Auditions will be conducted via cold reads of scripts. There is no need to prepare a monologue prior to your audition. Please contact us at info@dunstabletheater.org to reserve a time slot, and we will accommodate you to the best of our abilities. You may email us any questions you may have as well. We will accept walk-ins as well, but there may be a wait. Please be prepared to fill out an audition form upon arrival. We will take photographs to help remind us who each person is. Thank you for auditioning and break a leg!
Character Descriptions:
CORIE BRATTER – a free spirit, newlywed to Paul
PAUL BRATTER – a lawyer, newlywed to Corie
MRS. BANKS – Corie's mother
VICTOR VELASCO – the neighbor in the attic
TELEPHONE REPAIR MAN 
DELIVERY MAN
---
Come by and say "Hello" to us at the Dunstable Summer Concert Series on August 9th at 6:30PM. It is Community Info Night, and we will have a table set up with pamphlets and sign-up sheets, as well as some other goodies. Enjoy an evening of music from The Rampage Trio at Dunstable's final concert of the series and summer – we'll see you there!
---
Come join D
unstable Theater Collaborative in celebrating Independence Day with the town of Pepperell at their annual July 4th Festival. We will be perform
ing a number of musical selections, because what is more American than Musical Theater? Our festival performance is on July 1st at 4pm on Peperrell's Town Field on the second stage.  For more information or to find out how to be a part of the show, contact us!
---
On Friday, June 9th at 6:30 in the Dunstable Town Hall Theater (Main Hall), we will be holding a general assembly meeting for all members of Dunstable and surrounding communities who are interested or curious about Dunstable Theater Collaborative. We plan to discuss the group origin and mission, as well as lay out our plans for shows in the coming year. We want to take this opportunity to begin to make connections with community members who are passionate about theater and performance in one way or another, whether it is on stage or behind-the-scenes. This meeting is also for anyone who wants to be involved in bringing more arts and culture to our wonderful town, including future audience members. There will even be live performances by members of our founding board of directors to help shine a light on what is coming down the road with this newly incorporated non-profit community theater organization. We hope to see you there for a memorable evening.