AUDITION ALERT:
We are auditioning male and female vocalists for Songs for a New World by Jason Robert Brown. The show calls for 2 men (one baritone, one tenor) and two women (one alto, one soprano). Ages are very flexible! Depending on the amount of actors/singers that audition for the show, we may double the cast from 4 to 8 in order to involve more of the community.
Auditions are on:
July 16, 19, 23 at 6 pm at Dunstable Town Hall with callbacks on July 26. You can sign up for any of these days by emailing us at dtcauditions@dunstabletheater.org and we will give you a time slot to come in between 6 and 9 pm. You will need to prepare an audition song. More info available via email.
Rehearsals will begin August 6, and will be held Monday and Thursday nights from 6-9 pm at Dunstable Town Hall.
Performances will be October 19-21, 26-27.
---
The Glass Menagerie by Tennessee Williams
Directed by Christina Chadzynski
Dunstable Town Hall, 511 Main Street, Dunstable, MA
April 27-29 & May 4-5 at 8 pm (Sunday Matinee at 2pm)
Tickets: $12 General Admission/$10 Students/Seniors
Summary:
A theatrical piece of distinct power, with some of Tennessee Williams' most potent lyricism, The Glass Menagerie is a memory play as told to us by Tom Wingfield, a merchant marine looking back on the Depression years he spent with his overbearing Southern genteel mother, Amanda, and his physically disabled, cripplingly shy sister, Laura. While Amanda strives to give her children a life beyond the decrepit St. Louis tenement they inhabit, she is herself trapped by the memory of her life past– a life of cotillions and suitors and wealth, now long gone. Tom, working at a shoe factory and paying the family's rent, finds his own escape in drinking and going to the movies, while Laura pours her energy into caring for her delicate glass figurines.. Tom, pressured by his mother to help find Laura a suitable husband, invites an acquaintance from the factory to the apartment, a powerful possibility that pushes Amanda deeper into her obsessions and makes Laura even more vulnerable to shattering, exposed like the glass menagerie she treasures. Williams' intensely personal and brilliantly tender masterpiece exposes the complexity of our memories, and the ways in which we can never truly escape them.
Cast of Characters:
Tom Wingfield – Michael Kosick
Amanda Wingfield – Jo Ann Kaplan
Laura Wingfield – Hannah Young
Jim O'Connor – Jon Swift
---
AUDITIONS for The Glass Menagerie
Dunstable Theater Collaborative is hosting auditions for Tennessee Williams' The Glass Menagerie. Auditions are on 2/15, 2/21 & 2/22 from 6PM until 9PM, with possible callbacks the following week at Dunstable Town Hall, 511 Main Street. Rehearsals begin 3/05 and will take place Monday and Wednesday evenings through March, and adding Friday evening rehearsals in April. Performances will be April 27-29 and May 4-6. Auditions will consist of readings from selected sides from the script. No appointment is necessary, but an RSVP is appreciated at auditions@dunstabletheater.org. Actors only need to attend one of the audition nights.
Characters
Amanda Wingfield – A faded Southern belle, abandoned by her husband, who is trying to raise her two children under harsh financial conditions. Amanda yearns for the comforts of her youth and also longs for her children to have the same comforts, but her devotion to them has made her – as she admits at one point – almost "hateful" towards them.
Tom Wingfield – Amanda's son. Tom works at a shoe warehouse to support his family but is frustrated by his job and aspires to be a poet. He struggles to write, all the while being sleep-deprived and irritable. Yet, he escapes from reality through nightly excursions to the movies, but also to local bars. Tom feels both obligated toward yet burdened by his family and longs to escape.
Laura Wingfield – Amanda's daughter and Tom's older sister. A childhood illness has left her with a limp, and she has a mental fragility and an inferiority complex that have isolated her from the outside world. She has created a world of her own symbolized by her collection of glass figurines.
Jim O'Connor – An old high school acquaintance of Tom and Laura. Jim was a popular athlete and actor during his days at Soldan High School. Subsequent years have been less kind to Jim; however, and by the time of the play's action, he is working as a shipping clerk at the same shoe warehouse as Tom. His hope to shine again is conveyed by his study of public speaking and ideas of self-improvement that appear related to those of Dale Carnegie.
---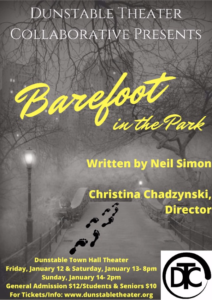 Join Dunstable Theater Collaborative for our group's inaugural performance of Neil Simon's Barefoot in the Park at Dunstable Town Hall, 511 Main Street, Dunstable, MA!
Friday and Saturday, January 12 & 13 – 8PM
Sunday, January 14 – 2PM
Neil Simon's Barefoot in the Park is a romantic comedy focusing on a pair of newlyweds, Corie and Paul Bratter, as they begin married life in a tiny, 5th-floor walkup apartment in a Greenwich Village brownstone. Paul is a strait-laced attorney; Corie has a far more spontaneous, free spirit. As the young couple contend with a lack of heat, a skylight that leaks snow, several long flights of stairs, oddball neighbor Victor Velasco, and Corie's well-meaning mother Ethel Banks, they must also reconcile their own personal differences in how they approach life's challenges. Adjusting to married life isn't so easy!
Starring:
Valerie Kosick as Corie Bratter
Nathan Hadlock as Paul Bratter
Karen Majkut as Mother (Ethel Bratter)
Jon Swift as Victor Velasco
Kevin Dumont as Telephone Repair Man (Harry Pepper)
Vicki Graw as Delivery Man
---
AUDITIONS! We are holding auditions for Neil Simon's Barefoot in the Park:
Tuesday, September 12th – 6 – 9 pm
Thursday, September 14th – 6 – 9 pm
Callbacks (if needed):
Friday, September 15th – 6 – 9 pm
Auditions will be at Dunstable Town Hall in the Main Hall, upstairs. Auditions will be conducted via cold reads of scripts. There is no need to prepare a monologue prior to your audition. Please contact us at info@dunstabletheater.org to reserve a time slot, and we will accommodate you to the best of our abilities. You may email us any questions you may have as well. We will accept walk-ins as well, but there may be a wait. Please be prepared to fill out an audition form upon arrival. We will take photographs to help remind us who each person is. Thank you for auditioning and break a leg!
Character Descriptions:
CORIE BRATTER – a free spirit, newlywed to Paul
PAUL BRATTER – a lawyer, newlywed to Corie
MRS. BANKS – Corie's mother
VICTOR VELASCO – the neighbor in the attic
TELEPHONE REPAIR MAN 
DELIVERY MAN
---
Come by and say "Hello" to us at the Dunstable Summer Concert Series on August 9th at 6:30PM. It is Community Info Night, and we will have a table set up with pamphlets and sign-up sheets, as well as some other goodies. Enjoy an evening of music from The Rampage Trio at Dunstable's final concert of the series and summer – we'll see you there!
---
Come join D
unstable Theater Collaborative in celebrating Independence Day with the town of Pepperell at their annual July 4th Festival. We will be perform
ing a number of musical selections, because what is more American than Musical Theater? Our festival performance is on July 1st at 4pm on Peperrell's Town Field on the second stage.  For more information or to find out how to be a part of the show, contact us!
---
On Friday, June 9th at 6:30 in the Dunstable Town Hall Theater (Main Hall), we will be holding a general assembly meeting for all members of Dunstable and surrounding communities who are interested or curious about Dunstable Theater Collaborative. We plan to discuss the group origin and mission, as well as lay out our plans for shows in the coming year. We want to take this opportunity to begin to make connections with community members who are passionate about theater and performance in one way or another, whether it is on stage or behind-the-scenes. This meeting is also for anyone who wants to be involved in bringing more arts and culture to our wonderful town, including future audience members. There will even be live performances by members of our founding board of directors to help shine a light on what is coming down the road with this newly incorporated non-profit community theater organization. We hope to see you there for a memorable evening.